This past week at work we have been gearing up for a
nationwide shortage on the main isotope, Tc-99m, we use to do cardiac imaging with in nuclear medicine
.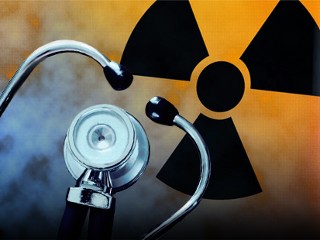 For me, this has meant working with "application" people over the phone and writing new program templates for our imaging cameras to use Tl-201, an isotope that we used commonly 15+ years ago when I was starting out in nuclear medicine. My supervisor has also had to change our entire scheduling process for our patients and physicians. It has been a total team project trying to be innovative with handling this upcoming crisis.
This has left me mentally "wiped out" at the end of the day……all I want to do when I come home is walk the dogs and watch the Olympics.
However, I did manage to make these DECADENT "Nanaimo Bars" earlier this week on Wednesday…..just getting around to posting about it this morning.
dec·a·dent
adj.
Marked by or providing unrestrained gratification; self-indulgent.
I must admit that since the Olympics have started I've been a bit obsessed about finding a few "Canadian" recipes to try….this is one of them that is absolutely fabulous!
"Nanaimo Bars"
Ingredients:
1/2 cup butter, softened
1/4 cup white sugar
5 Tbs. unsweetened cocoa powder
1 egg, beaten
1 3/4 cups graham cracker crumbs
1 cup flaked coconut
1/2 cup finely chopped almonds (optional)
1/2 cup butter, softened (yes….MORE butter)
3 Tbs heavy cream
2 Tbs. custard powder (I used instant cheesecake pudding mix)
2 cups confectioners sugar
4 (1 ounce) squares semisweet baking chocolate
2 tsp. butter (yes, more butter)


In the top of a double boiler (I just put mine in a saucepan on simmer) combine 1/2 cup butter, white sugar and cocoa powder.
Stir occasionally until melted smooth.
Beat in the egg,
stirring until thick, 2-3 minutes. (I'm not sure about this…you might stir some of the hot chocolate mix into the eggs first to temper them….I poured the egg directly into the hot chocolate and while I was stirring it, it resembled chocolate scrambled eggs)Remove from heat and mix in the graham cracker crumbs, coconut and almonds.
Press into the bottom of an ungreased 8x8 pan. (yes, this will all fit in an 8x8 pan….like I said…it's decadent!)
For the middle layer, cream together 1/2 cup butter, heavy cream and custard powder or instant pudding mix (just the 2 Tbs., not the whole box)
until light and fluffy.
Mix in the confectioners sugar until smooth. (hand stir in the confectioners sugar to get it well incorporated before using the mixers…..otherwise you will have confectioners sugar ALL OVER your kitchen). Spread over the bottom layer in the pan. Chill to set.
Let your kids (or in my case….the dogs) lick the beaters! Luckily, I have two dogs…..1 for each beater!
While the second layer is chilling, melt the semisweet chocolate and 2 teaspoons of butter. (I was using stick butter….don't know what 2 teaspoons look like, so I used about 1 1/2 tablespoons.)
together in the microwave or over low heat.
Spread over the chilled bars.
Let the chocolate set before cutting into squares.
These are best at room temperature.
I hope you enjoy them as much as we have here at home.