I'm not feeling cynical…..I guess I'm just feeling more like I need to be true to myself….maybe a bit more sarcastic than usual.
Yesterday, I left at the break of dawn with some of my besties to head down to Arkansas on our annual trek to the "War Eagle Craft Show".
We always love driving by Beaver Lake and seeing the mist rise off of the lake…..so beautiful.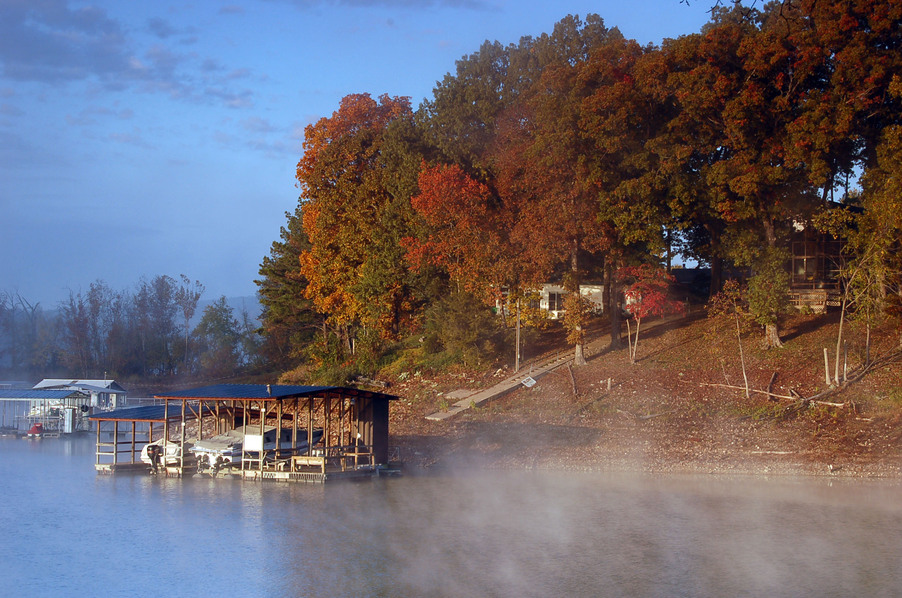 We get to the show early, so we don't have to wait in a super long line of traffic…..that part went well and we also got there early enough to beat the BIG crowds.  We always hit the bit tents first on one side of the bridge….I think this must be the juried crafters, because the things on this side of the bridge are nice.  Lots of handmade pottery, paintings, jewelry, etc.
The day started off cold…..40ish.  It was REALLY EARLY when I was getting ready and I changed purses and didn't have any lipstick or chap stick so I did buy some great lavender lip balm from Clear Creek Lavender, and I must say it's GREAT!  Very soothing and I just love the smell of lavender.
We also met Gretchen who makes BEAUTIFUL tightly braided wool rugs…..I so wish I would have gotten a picture of her rugs!  I did get her card, but the website that is listed on it doesn't work….I'll e-mail her and see what I can find out and maybe I can share her rugs with you on a future post.  I told her I would get her hooked up with some great wool suppliers like Rebecca Erb and Heavens to Betsy.
Next we headed "over the bridge" to the rest of the show…..
Okay, I think someone forgot to tell a lot of vendors over here (now don't get me wrong….there are vendors on this side that have nice handmade items…..for example, Vicki Hardcastle has her tent on this side and she makes beautiful felted pins and hooked rugs and patterns) that this is a CRAFT show, not a CRAP show and that CRAFT means things that are handmade, not crap bought in China…..I'm sorry, but if I want to look at a  bunch of dime store shit, I'll go to the dime store…..I don't have to get up at the crack of dawn to go to the dime store!
I mean, seriously, who buys this stuff?  We did see a little innovation this year….these dime store towels actually had sunbonnets on the top, rather than the crochet! Yes, these are handmade, but REALLY?!
Even the dog was not impressed…
We headed on next to "Spanker Creek" in Bella Vista, Arkansas….this is the spot of our annual picture together. (by now I think it's in the 80's….we had shed our jackets and scarves and pushed up our sleeves)
We did buy some Arkansas Black apples here…..I ate my first one last night……tastes like a crisp apple cider….I'm hooked!
I can't believe I'd never even heard of Arkansas Black apples until now!
Next we headed to our favorite spot….Abuelo's, where some of us (yes, that would be me and Reba) had margaritas  (Renee was driving and Haylee is still too young)
and we all had chips and salsa and the best Mexican food….yummmmmmm.
I totally splurged and had "Enchiladas De Cozumel" which would be this:
three delicious crepes filled with fresh guacamole, covered in a rich white wine sauce with a medley of perfectly seasoned shrimps, scallops, mushrooms, fresh spinach and roasted peppers….this also came with refried beans and these wonderful mashed potatoes that had peppers and sour cream…… (that is what I call a "top button" meal…..one of those where you have to undo the top button of your pants when you're done :)
What are your experiences going to craft shows in your area of the country…..are you seeing lots of crap or are you still seeing handmade items?
Honestly, the best part is  getting away and spending the day with your friends.