Monday, we headed to St. Louis for a little get-away.
Our first stop, The Missouri Botanical Gardens.
Needless to say it was warm, I think in the 90's, but in the
gardens there were quite a few shady spots to help
beat the heat.  Plus, seeing all of the flowers in bloom,
seems to make the heat not seem nearly as hot.
There are many old huge buildings filled with flora
and we would walk through them and think how grand
it would be to have a beautiful conservatory that large
to garden in year round.  That way, Kenny would not have to
drag tropical plants in and out of the sunroom in the spring and
the fall.
The daylilies were blooming profusely and there
were so many different varieties, many visitors were
there with notebooks, jotting down names of daylilies
they wanted to acquire for their own gardens.
This is one that I liked, that had a ruffled edge.
In the Victorian garden, we were taken with these
balls made of succulents.
Inspiring!
After seeing this specimen of spotted may-apple,
Kenny is now on a quest to find one for his garden.
Yes, he has "regular" may-apple plants, but
he is always on the search for something more
unique.
Below is a cool spot of shade,
with a beautiful sculpture.
Small running creeks.
The gardens are VAST and amazing, this picture
gives you a little idea of just how vast….
A waterfall in the Japanese garden area….
I especially liked this combination of flowers.
The tall dark grass combined with the bright yellow
and deep scarlet.
The whimsical nature of this water sculpture made me
smile. I love the way the water is splashing against the
feet of the ducks and they are spitting water out of their
beaks.
More fun water sculpture….playful racoons!
Of course, we saved the best for last….or at least it
is always our favorite part of the botanical gardens….
the Climatron!  Full of tropical plants, waterfalls and even
a few visitors.
"The Climatron has no interior support and no columns from floor to ceiling, allowing more light and space per square foot for plants than conventional designs. It rises 70 feet in the center, spans 175 feet in diameter at the base, has 1.3 million cubic feet, and encloses approximately 24,000 square feet (more than half an acre)."
Yes, it's big…..
This is one of the visitors….I think it's called a rhinoceros beetle….
looks like something from dinosaur times!
This is one of the waterfalls you can walk underneath.
Chihuly glass sculptures inserted into the gardens
Pineapple ginger
Beautiful orchids, ferns, air plants, etc.
The large tree in the middle, below, is an Australian
tree fern.
Another visitor….no, the pictures aren't upside
down, he is!
I have no idea what plant this was, but it
was spectacular!
More beautiful waterfalls
This is called a corpse flower….
it rarely blooms, but this one had just finished
blooming…
We spent about 3 hours at the gardens, but you
could easily spend an entire day there! 
Needless to say, by the time we finished we were hot
and parched….which made our next stop a complete
necessity!
Ted Drewes frozen custard!
More tomorrow….I'll say just one thing, the
3 hours walking at the gardens was just a warm up
for all the walking we would do the next day!
Oh yeah, with all that walking we also had room for Pi!
Custard AND Pi?!
Ohhhhhh, I meant pizza Pi!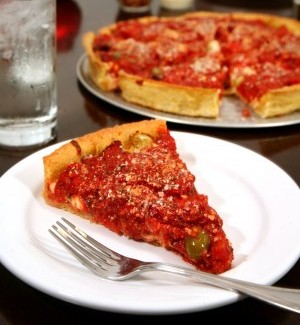 Made with a cornmeal crust….delish!