Is it bad when  new eating plan is pretty much all-consuming?  I picked up this magazine at Borders the other day and I've started their 14 day plan.
This involves whole foods, no preservatives, no processed sugar, no white flour. Lots of fresh foods means lots of cooking and shopping more frequently.
However, I started on Monday and I'm feeling great….haven't felt hungry so far….yes, it's a bit about losing weight….Kenny took pictures of me cleaning out the pool this past weekend and I was like, "OMG….I've got to do SOMETHING"…..so this week it's focusing on the eating….eating FRESH….next week I'll introduce more exercise while still eating FRESH.  I like lifting weights…it's just getting to the gym that is the hard part for me.
I've been eating a lot of things that I don't normally LIKE…….carrots
and cantaloupe
  are topping the list of things that I'm MAKING myself eat….but there are a lot of things that I DO like….salmon,
strawberries,
cilantro, whole wheat tortillas….and a few new things that I"m trying out….red quinoa,
making my own hummus,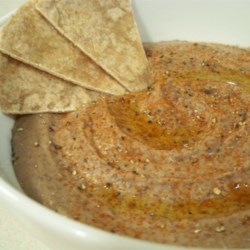 trying out new recipes….tomorrow night….Spinach and Dill Rollatinis.
Of course the store close to me doesn't carry silken tofu or soft tofu….just firm tofu….so, looks like a trip to Mama Jean's after work.
I got to have a small portion of pork loin tonight, so don't cry for me. Maybe this is the eating plan that I can LIVE with…..a lifestyle change.