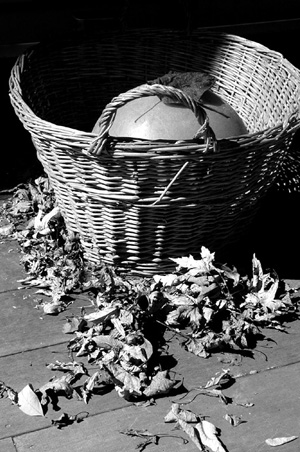 Today was a beautiful day....warm, sunny, no breeze....just perfect for raking and bagging leaves. I truly enjoyed myself and tried to be "in the moment". That smell and crunchiness of the leaves, the sun on my back...it was wonderful.
I spend a LOT of my time indoors at work and it was just so nice to be outside today.....just one of those "perfect days".
rythmic raking of the leaves
~Haiku by Tammy Burks~

I really had some things I needed to do.....dye wool, catch up on the laundry, shop for Thanksgiving dinner.......well, I did shop a little but just came home with clementines and pomegranates.....some things are just GOOD this time of year and I don't want to miss out! Can't wait to slice open that pomegranate in the morning and spoon it over some pancakes.....it's pretty much all I can think of!!!
As Scarlett O'Hara says "After all, tomorrow is another day".....I'll shop and do laundry tomorrow.
While we're on the subject of Scarlett, I found this video tribute....I love it!
Go forth and be creative,
Tammy