Yesterday, I spent the day with my niece, Madison, as well as my mom, grandma, and a friend of my mom's Judy.
It was a trip to Branson.  We left at noon and got back at midnight!
First we headed down to see  Joey Riley.  He played on my grandparents country music show in Eureka Springs, Arkansas back when I was probably a freshman or sophomore in college.  He's even funnier now than he was then! Here's a little clip of what you can see on his show. Click on banner to see a video.
Kind of a blurry photo of myself and Madison with Joey after the show.
Next we headed to supper at
…..my mom and my niece LOVE "The Cracker Barrel"……of course you put together a big gift shop and food and what's not to love?!
Now that we were fueled up we did a little Outlet Mall shopping…..didn't buy much, but we had fun looking! Mask anyone?
I got educated on "Silly Bandz"……they are all the rage, in case you didn't know…..they come in all kinds of shapes from butterflies to dolphins and everything in between!  Here are the ones that I got……anyone want to trade theirs for mine?
That's what you do with them!
Oh yeah, then there was the orange cap on the M&M's…..bought the orange cap at the outlet store and then we had to find a big bag of SOMETHING, so we could try it out. Kind of a cool way to keep bagged items fresh and convenient…..you know, dark chocolate peanut M&M's MUST be convenient!
We also had to pick up the latest issue of People Magazine so we could check out Carrie Underwood's wedding dress!  Madison is a HUGE Carrie Underwood fan, plus, she loves ALL THINGS "wedding", so this was like a double treat!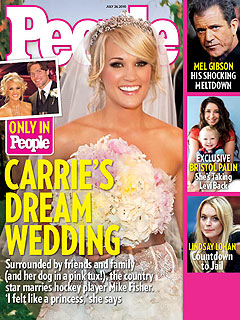 Now that we're all" sugared up" with M&M's and Airheads (kind of like Sweet Tarts in a taffy form) we head to another show……. "Clay Cooper's Country Music Express".  Clay is also around my age and he and Joey lived in my grandparent's basement when they were getting their start in entertainment.  I know my grandma just loved seeing that they had made a go of it in Branson.  Click on banner to see a video.
Pic of Madison, my Grandma, Clay and myself after the show.
We laughed all the way home….giddy from a fun day and LOTS of sugar!