I've still been working away on the garden rug when I've had time.  ( I really am trying to make a little time to hook now and then) Last time I met with a few friends, I worked on adding more knots to the mullein flower.  Tying the knots and getting them to be the right shape and then stitching them on is very tedious….I thought it better to work on those while I was hooking with a few friends rather than doing it while I'm at home by myself. If I work on things like this when I'm home alone I get frustrated and end up finding something else to do. It doesn't look like I have much to go, but there are about 20 more knots to make and attach. YIKES!
Something about the chattering of girlfriends and a little wine helps me forget how tedious the task is.  However, it is satisfying to put it down on the floor and see how many I was able to stitch on in a night's time.
In this photo, it looks like a lot of the background is black, but it's really a cool spot dye with dark purples and greens….I'll have to try later on and see if I can get a better picture of that color.  Looking at it in a picture, I think I'm going to add rusty orange iridescent beads to the coneflower heads. I love a touch of sparkle!
Since I'm getting so close to completion of this panel, I've decided to show you the other panels in this series.
Yes, my husband drew these, based on his garden! I love his whimsical drawings!
To be thrifty with the linen I just can't help myself  I've had Kenny draw them all on one piece of linen…..this gets a bit "bulky" to work with at times…..like wrangling a calf while you hook!
To give you an idea of how big this is, the square slate tiles on the floor are 16" x 16"….so pretty large when it's on my lap.  I've been using legal clips to keep it under control while I'm working on it.
Here is a better picture of the dark part of the background…dark, but really rich!
While I was hooking last week I was introduced to this recipe that now I'm TOTALLY in love with!
Marinated Cheese!
Sandy made this and hers was so pretty…just like this picture.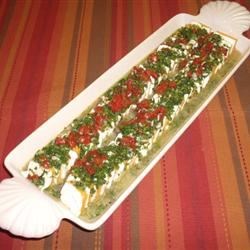 Here is the recipe from www.allrecipes.com one of my favorite recipe sites!
Ingredients
1/2 cup olive oil
1/2 cup white wine vinegar
1 (2 ounce) bottle diced pimento, drained
3 tablespoons chopped fresh parsley
3 tablespoons minced green onions
3 cloves garlic, minced
1 teaspoon sugar
3/4 teaspoon dried basil
1/2 teaspoon salt
1/2 teaspoon ground black pepper
1 (8 ounce) package Cheddar cheese
1 (8 ounce) package cream cheese, cold
Directions
In a jar with a tight fitting lid, combine the olive oil, wine vinegar, pimento, parsley, green onion, garlic, sugar, basil, salt and pepper. Shake vigorously to blend. Set aside.
Cut the block of Cheddar cheese in half lengthwise. Cut crosswise into 1/4 inch slices to form squares. Repeat with cream cheese. Arrange cheese squares alternately in a shallow baking dish with slices standing on edge. You can arrange in a single long row, or 2 parallel rows depending on the size of your dish. Pour the marinade from the jar over the cheese slices, cover and refrigerate for at least 6 hours, or overnight.
To serve, remove slices to a serving platter so they are still arranged in an alternating pattern. Spoon some of the extra marinade over the cheese, and serve with crackers.
Here is a picture of mine….you might say a bit more rustic! I don't have the patience to make those pretty little rows! Plus, it still tastes the same!
I had some fresh mozzarella cheese balls that were really pretty bland, then I added in cream cheese and Montico cheese.  I've tried this with just plain white vinegar and also white balsamic vinegar…I really think you could use any kind of vinegar that you have on hand and it would be great!  I also didn't use fresh parsley or dried basil (out of both)…instead I used Italian seasoning. Put it on crackers or toasted slices of French bread or just plain French bread (the plain French bread really helps to sop up the oil/vinegar left in the bottom of the dish)….yes, I'm addicted and starting to feel more like myself!