Do you ever have those days at work, that are really NOT the best days, but you have something to look forward to at the END of your day to get you through it all?
When I punched out on Friday, Renee and I drove out to Sandy's house to all pile in Sandy's car and head to the lake to hook at Kelly's new lake house.  Changing out of scrubs and into shorts and flip-flops was like being let out of school for the summer.
Wouldn't it be great to think that you had the whole summer ahead of you with nothing to do but hook and lay by the pool and explore the world around you?  Okay, I'm digressing into that fantasy world of a 3-month summer vacation…..but honestly, I'll take what I can get!
We hit Hwy 65, and I realized that sometimes, just living most ALL of my life in the Ozarks,  I forget how truly beautiful it is here.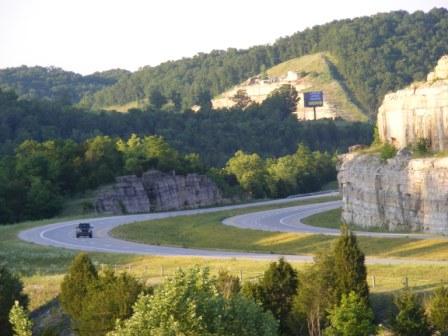 This discussion was brought on by the new "Branson Zip Line" that is now open…..we were like, "who would want to do that? Yeah, maybe in the rainforest or somewhere cool….but HERE?"  Sandy said, "well, it  might be cool if you were from somewhere flat…."
We get to Kelly's lake house in about 30 minutes and we were all like little kids…..Kelly was whipping up supper and we all got a wine cooler and started looking around her new place……it is SO FABULOUS! 
I didn't get a lot of pictures, but I'm asking Kelly to send me some of her for me to share with you.
After supper, we settled into hooking and we put out all of the "stuff" I had brought with me to send off to new homes.  The girls would take turns going in to pick out what they wanted….patterns on red dot, penny rug patterns, pillow forms, stuffing, felted sweaters and who knows what else.
There was a LOT of it…..
We sat up and hooked way into the night……Kelly's dog, Grady, snuggled into the wool pile and took a little snooze…..
Renee's project in progress
Loving her birch tree!
Sandy's project
Kelly's project
My project….the 3rd garden rug…
We woke up to a beautiful view and had coffee and breakfast on the deck overlooking the lake…..you can "kind of" see the view from this picture…
BREATHTAKING!