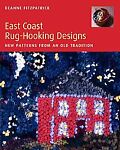 The "new" book by Deanne Fitzpatrick is actually a reprint of an earlier book called "East Coast Rug-Hooking Designs"....all of the same designs. Some of the pictures are different or are in different places in the book.


Thanks Debe for the heads up on this one.
....we got lots of snow last night so I hope to get out and get pictures in a bit....stayed home today because my car rides low to the ground
and was afraid I would tear it up if I got it out in the snow today....sooo....today I'm working on taxes.
Yeah, fun right?!
Go forth and be creative,
Tammy