At the end of each season, I've been trying to go through my
"stuff".  So over the next few days I'll be offering a few rug hooking
patterns and perhaps a few books and magazines.
Today I'm selling this "Tom #1" rug hooking pattern on
linen for $66 plus $2 traveling fees.
The pattern measures 27" x 32".
Just e-mail me, (you can find that on the side bar), if you
are interested.
This item is SOLD!
.
SOLD-SOLD-SOLD-SOLD-SOLD-SOLD
I bought it YEARS ago, and never got around to hooking it.
It now retails for $90.
I've cruised the web to find a few pictures of it hooked.
(image from Beeline-Townsend)
(via Rug Hooking Daily hooked by Kimberly Maggion)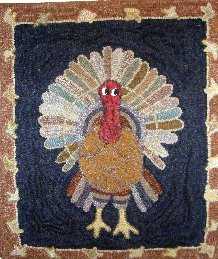 (image from Emma Lou's Primitives)
Enjoy your Sunday!