Ahhhh, it's Friday.

Going into the weekend knowing that my Christmas shopping is complete and all I have to do is more
wrapping of gifts
.
I'm soooo enjoying the wrapping this year because I have time to sit down and enjoy it.

There's just something about making those neat creases in the paper....taping...embellishing.....instant satisfaction!

The past few years I've just crammed things in
gift bags
with some tissue paper....I'm not saying that's bad...there are a LOT of cute bags out there, but there is just SOMETHING about getting a gift that's wrapped and UNWRAPPING it.
Do you tear off the paper, or do you try to keep it all together in one piece?

Me?

If the paper is beautiful I try to open it carefully, but usually I just tear into it!

Here's another idea for simple wrapping....jute and sprigs of cedar....simple and beautiful. You can also add an ornament that you are tired of to spiff it up a bit. Great way to recycle!

Wouldn't it be great if you had a whole "gift-wrapping" room or
station
?! These are beautiful and look nothing like what I have going on at home :)
My wrapping paper is strewn about the floor and tape and scissors and ribbons are in a plastic bag....ahhhhh, to have a dream! What would we do without aspirations of greatness?

Tori Spelling's mom has a gift-wrap ROOM!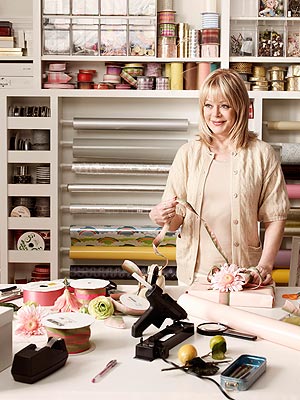 The luxury!

Want more gift-wrapping ideas.....go
HERE
!
This woman is the "gift-wrapping guru of the UK!

Who knew?!