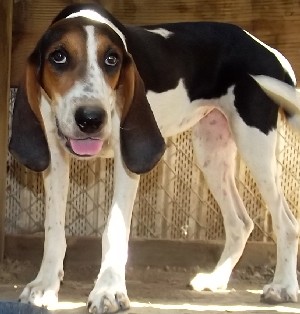 I try to check up on the dogs I feature on my blog, that are looking
for a forever home, every day or so……this sweet angel has been on my
blog since, I believe, October….that's a long time!
Well, I checked today and it says she has been adopted.
So happy!
Here is her story….
Hi, I'm Daisey. I'm a friendly dog that is only looking to be loved. I'm a good girl;
I try really hard to please people. This is despite the fact that I was abused.
I was brought to M'Shoogy's after my owner hit me in the face with a board.
The blow was so hard that, not only did I get a bloody nose, I had a seizure.
I could have let that experience turn me into a bad dog, but no way.
I'm not going to let anyone else define me! I know who I am; I'm a survivor.
All I need is one chance to show you what a great dog I am!